Parrot AR Drone Helicopters
NOTE: We are not the makers of the Parrot AR Drone nor are we associated with the company in any way. We are just big fans of the product that decided to help others see this thing in action. The makers of the AR Drone is the company Parrot which makes all kinds of top of the line products.
Buy The AR Drone Helicopter From Amazon- Ships TODAY
Parrot AR Drone Helicopters FAQ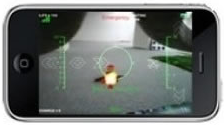 As with any new device, the popularity of the AR.Drone has prompted a Parrot AR Drone Helicopter FAQ. We have tried to compile as much information as possible, despite the relatively limited information supplied by Parrot. Unfortunately, there is not much thorough information as of yet, though we are hoping this will change in the near future. We are tracking the device on a whole, so we can try to answer questions as accurately as possible. Our more specific pages will give you a better idea about some of the Parrot AR Drone FAQs, though there is still much speculation to be found.
When is the Parrot AR Drone going to be released?
The closest answer Parrot has given us is "sometime in 2010."
How much will it cost?
No price has been released, but the Game Developers kit costs $1,200.
What is the Game Developers Kit?
The kit is designed for those who would like to make games for use with the Parrot AR Drone on the iPhone or iPod.
Will I be able to use my Parrot AR Drone without an iProduct?
Parrot has not mentioned any support for products outside of the iPhone or iPod, but they have made the AR Drone open source. Since the software is open source, anyone will be able to make their own programs for the device.
How does the Parrot AR Drone connect to the iPhone?
The Parrot AR Drone uses a Wi-Fi connection in order to connect to an iPhone. Bluetooth is not required, but the iPhone will have to have its Wi-Fi turned on.
What is the flight range for AR Drone Helicopters?
The range of the AR.Drone helicopters depends on the environment in which it is being used: the range will be greater if the AR.Drone is used in a wide-open space with few Wi-Fi waves. The flight range for AR Drone Helicopters averages about 50 meters / 160 feet. Read more...
What happens if the AR Drone leaves its operating range?
If you fly the AD Drone out of its accepted range, it will turn on its auto pilot feature and safely land it self.
How long should the battery last?
Every charge of the battery will give you roughly 15 minutes of flight.
How fast can the chopper go?
The maximum speed is 11 miles per hour, or 18 kilometers per hour.

* September 2010 - The Parrot AR Drone is currently being sold and shipped through Amazon.com