Parrot AR Drone Helicopters
NOTE: We are not the makers of the Parrot AR Drone nor are we associated with the company in any way. We are just big fans of the product that decided to help others see this thing in action. The makers of the AR Drone is the company Parrot which makes all kinds of top of the line products.
Buy The AR Drone Helicopter From Amazon- Ships TODAY
Parrot AR Drone Helicopter Games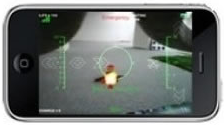 With the built in cameras, Parrot AR Drone Helicopter Games have become one of the hottest reasons that many people have expressed interest in this most advanced pieces of technology. The AR Drone is backed by the awesome power of the iPhone and iPod's software, which has brought the Augmented Reality gaming system to fruition.
Augmented Reality is a cross between virtual reality and modern gaming. Rather than creating a simulated environment, Augmented Reality uses cameras, in this case the one mounted on the nose of the Parrot AR Drone, to take the environment in which the game is played and adding to it through the use of a view screen. With the Parrot AR Drone Helicopter Games, you will be able to enjoy a diversity of different piloting games, with speculation that more will come throughout the years.
Several games are set to be available in the beginning. There are two different single player games, as well as a multiplayer game. The single player games will allow you to go on a bombing run, either against a nearly indestructible robot, while the other will pit you against drones similar to your own. The multiplayer game will allow you to enjoy a head to head battle against anyone else in the neighborhood who happens to have one of these pieces of amazing technology.
More Games for the Parrot AR Drone Helicopter will, more than likely, be added. The USB port that has been integrated into the device's computer will allow different forms of manipulation, be it official otherwise. The mutability of the Linux operating system, around which the device was designed, is almost a promise of new games.
* September 2010 - The Parrot AR Drone is currently being sold and shipped through Amazon.com