Parrot AR Drone Helicopters
NOTE: We are not the makers of the Parrot AR Drone nor are we associated with the company in any way. We are just big fans of the product that decided to help others see this thing in action. The makers of the AR Drone is the company Parrot which makes all kinds of top of the line products.
Buy The AR Drone Helicopter From Amazon- Ships TODAY
When Will AR Drone Helicopters Be Available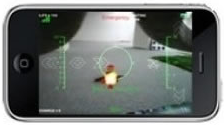 Unfortunately, Parrot has not told us when the Parrot AR Drone Helicopter will be available. The closest semblance to a release date is simply the year - 2010. Other than this, no information has been supplied as to when the device will be released to the general public.
As of now, the only way that anyone could get their hands on the device is by dropping $1,200 dollars for a game developer's kit. This comes with a rented unit, as well as the developers kit. This is only for serious video game developers, and can not be received by the general public.
The fact that the developers kit has already been released should be an indication that the device is almost complete, many are hoping, though with out proof, that the the Parrot AR Drone Helicopter will be available before the second half of 2010.
* September 2010 - The Parrot AR Drone is currently being sold and shipped through Amazon.com