Parrot AR Drone Helicopters
NOTE: We are not the makers of the Parrot AR Drone nor are we associated with the company in any way. We are just big fans of the product that decided to help others see this thing in action. The makers of the AR Drone is the company Parrot which makes all kinds of top of the line products.
Buy The AR Drone Helicopter From Amazon- Ships TODAY
What Is The AR Drone Helicopter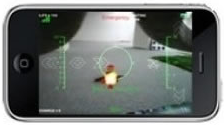 To date, the iPhone has created some of the most innovative 3D gaming on the market today, that provides costumers hours of entertainment. Now, they have taken it a step further. Parrot, a company known for mostly blue tooth accessories, has created and introduced the Parrot AR. Drone. The A.R Drone is the first WiFi-enabled helicopter that is remote controlled from an iPhone or and iPod Touch that you choose. The eccentric toy implores two cameras that serve to balance, and to stream a live-feed to your iPhone, or iPod Touch. The goal of the inventors of the AR. Drone was to intermix the gaming world with the real world.
The AR Drone generates its own WiFi Network, so you need to only connect an iPhone or iPod Touch to create the ultimate piloting system. Because of the accelerometer feature on the iPhone and the iPod Touch, your movements are able to be detected, that allow for the AR. Drone to be efficiently piloted from either unit. Movements on the iPod Touch, such as forward and backwards correlate to the same movements of the AR. Drone. On the iPhone, the touch pad is the command center for the AR Drone, as well buttons that signify rising and falling movements.
The Parrot AR. Drone can be flown both inside and outside. For movements on the inside, a specially designed hull protects the propellers from contact. Conversely, for outside flying, a uniquely shaped hull was designed to reduce friction from wind, for optimum maneuverability.
A wide-angle camera, along with a high-speed camera, portrays back to the pilot the environment in which the AR. Drone is in for easy control, no matter what the skill level. It has an autopilot feature for a simple take off and landing. The AR. Drone autopilot feature stabilizes the unit from roughly three feet off the ground Autopilot also takes affect following a dropped WiFi connection, in which the AR. Drone goes into a stationary flight. The AR. Drone provides a unique remote control piloting experience every time the user launches it up in the atmosphere.
* September 2010 - The Parrot AR Drone is currently being sold and shipped through Amazon.com