Parrot AR Drone Helicopters
NOTE: We are not the makers of the Parrot AR Drone nor are we associated with the company in any way. We are just big fans of the product that decided to help others see this thing in action. The makers of the AR Drone is the company Parrot which makes all kinds of top of the line products.
Buy The AR Drone Helicopter From Amazon- Ships TODAY
Parrot AR Drone Repair Tools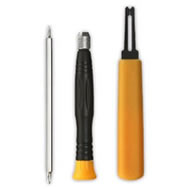 The Parrot AR Drone is a very complex device, and you may want to purchase the Parrot AR Drone Repair Tools in order to make sure that your chopper is in pristine condition at all times. Repairing your device will become necessary depending on how you fly your AR Drone. If you are reckless, you will be making repairs fairly regularly. Since you will be doing this yourself, you will want to purchase a Parrot AR Drone repair kit.
Three tools come in the set. You will find that they have a Phillips screw driver designed in a thin fit to slide into the deeper recesses of the drone, as well as a Torx screw driver for some of the oddly shaped screws. A grabber tool, known as a circlip, is also included in the repairing tools. The circlip is used to quickly and easily remove the clips that hold the propellers and gears into the shafts. The Parrot AR Drone repairing tools are vital to the continued operation of this device.